Real-time packaging of travel services
The professional interface for the reinvigoration of holiday packages
Upgrade your travel offers to the dynamic package of travel services with the leading business solution, TravelPack X4. TravelPack X4 combines for you, in real time, current airfares and hotel rates into a holiday package. Control your dynamic travel offers online, with various management and deployment tools, in order to select, for example, flight providers or to adjust – in real time – margins and calculations.
With the ServeYou interface, you can attach the entire content (flight provider & hotel beds) to your tour operator in-house system, in order to internally produce dynamic trips for all distribution systems and channels. Everything is stadis/toma compatible.
With the top-of-the-line solution for real LivePackaging, you are able to experience the dynamism and flexibility of flight quotas in high-end form. With ServeYou Flight, you 
will be able to book your classic holiday packages in a flexible manner. The process operations remain the same. ServeYou Flight adapts itself to your requirements 
and not vice versa.
Take the opportunity to access flight quotas from various sources. Extend your tour operator system to daily virtual airfares and produce your own dynamic travel services within your system (e.g. BLANK, XRES). ServeYou
 offers you all airfares of charters, airlines, low cost airlines and scheduled flight fares.
Be dynamic with TravelPack. Discover the product highlights:
dynamic packaging of holidays
live combination of land services with exclusive traffics flight content
adjustable to all or only exclusively selected distribution channels
"best price" logic with ONE-WAY/RT intelligent flight combinations
flight sources for live packaging:

charter flights
tour operator flights (public & exclusive)
low cost flights
scheduled flights (net, published, negotiated, AER, etc.)

flight data from 160+ airlines
targeted, scheduled flight providers
fast response times based on the allocation of flight IDs
Data export and generation in INFX or OTDS
Compatibility with other systems:
BLANK CRSSERVE
NURVIS
ATCORE
TOURLINK
DATAMIX
XRES
DAVINCI
GENIUS
and many more…
Product management with a click
Control your dynamic travel offers and create live margins with the new product management tools.
determine amounts as a fixed sum and/or percentage-wise
your self-determined margin will be adopted directly with each new packaging
optimal overview of your preset margins via the search and filter functions
setting of margins for countries and regions, up to individual airports, so that every differing margin is valid
setting of actions for specific periods, e.g. Christmas or New Year's Eve
Are you already familiar with our Business Intelligence Analyze Tool?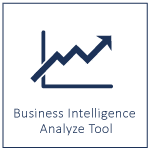 With the new Business Intelligence Analyze Tool, you will get an excellent reporting structure, plus you will have the opportunity to gain insight into the data quality of your various tour operators.
Furthermore, you can simply create a benchmark for different evaluations in order to plan further measures for data production, sales and product control.