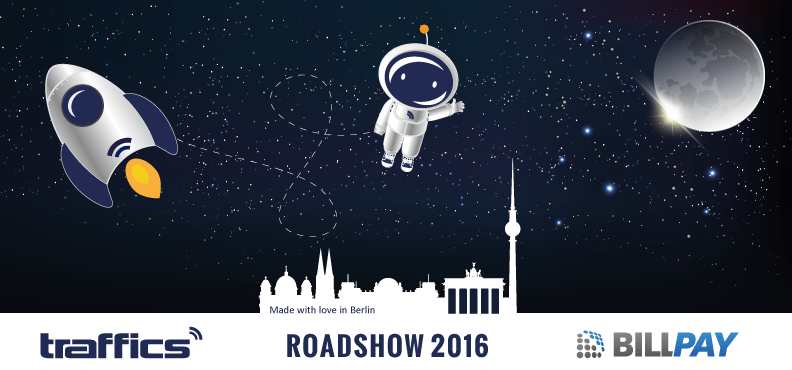 CosmoNaut and PayLater to go on tour: traffics and BillPay plan to kick-off road show in eight cities
 Berlin (w&p) 25th of August 2016 – traffics and BillPay will tour the country: From 4th until 17th of October 2016, the Berlin-based technology expert and the leading provider of installment payment will go on a road show throughout Germany. The event series will focus on the brand new fare comparison and booking system Cosmonaut of traffics as well as BillPay's PayLater function for holiday trips. The road show will target owners and employees of travel agencies.
The two companies plan to tour through a total of eight German cities. Besides traffics and BillPay, there shall be a number of event partners. Among them are Aerticket, Celestyal Cruises – represented by H+H Touristik – FTI Touristik, Holiday Extras, Interhome, JT Touristik, Paxconnect, Sunny Cars, Viva Hotels and Vtours. Partners will inform visitors at various booths as well as with short presentations about their products. Also, there will be delicious food available for guests. The motto: "Made with love in Berlin."
The tour will start in the capital Berlin, before moving on to Hamburg and Bielefeld. Afterwards, Dusseldorf, Frankfurt, Stuttgart and Munich will be on the agenda. Leipzig will round off the tour series.
Overview of tour dates:
Berlin:                                  Tuesday, 4 October at the traffic Club – with a unique view towards Alexanderplatz
Hamburg:                           Wednesday, 5 October in the Völkerkundemuseum
Bielefeld:                            Thursday, 6 October at Hechelei in Ravensbergerpark
Dusseldorf:                        Monday, 10 October in the old factory Boui Boui Bilk
Frankfurt:                           Tuesday, 11 of October on the ship Wappen
Stuttgart:                            Wednesday, 12 October at Gärtnerei Elsäßer
Munich:                             Thursday, 13 October at the Gokart Arena
Leipzig:                                Tuesday, 17 October at the RB Arena
In every city, up to 100 guests from travel agencies will have the chance to take part in the events. Registration can be made unter https://registrierung-veranstaltung.de/traffics_roadshow.
The road show will take place in extraordinary locations such as a go cart arena, a soccer stadium as well as on a river ship.
About traffics:
traffics is one of the leading travel technology companies since 1999, and it stands for innovative and customer-oriented solutions in the travel industry. The product portfolio ranges from a touristic computerized booking system via Internet Booking Engines to exclusive touristic content. This makes the Berlin-based company a leading supplier of reservation, consultancy and booking systems for travel agencies, web, TV and mobile applications. Via HeliView, traffics provides a unique technology for interactive travel search, which has an integrated booking function from the helicopter perspective.  This system is used by more than 6,000 travel agencies, as well as by renowned travel portals, airlines, hotels and tour operators. Due to its continuous work on innovations, traffics has already been distinguished with several awards.
traffics Softwaresysteme für den Tourismus GmbH
Phone: +49 (0)30 – 59 00 282 -0
Wilde & Partner Public Relations
Roberto La Pietra / Melanie Nagy
Phone: +49 (0)89 – 17 91 90 – 0