Direct access to all trip data
The leading API for bookable/non-bookable content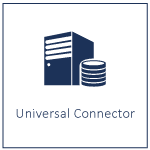 With the new connector, we will provide you with an XML interface for all the data and functions required for the booking and counseling of travel services for your target group-oriented B2B/B2C frontends. Develop your own hotel, flight or holiday portal with the Universal Connector.
The new connector is characterized by individual customer requests, as well as by the accurate and top-speed selection of service provider product data. Themed categorizations and access points bring exciting holiday worlds in the focus of your online customers. Thus, you can increase your conversion and your average travel price for more commissions.
Customer testimonials:
"traffics is a very fast, clear and innovative booking engine. Our customers find their way around more quickly and the conversion has been increased by 30% as compared to the previously used engine. The flexible adjustments and a rather fast project work on several of our online portals have given us a lot of joy."
Alexander Konrad – H&H Touristik GmbH, Division Manager of Technology/Production Systems
API conformity
One-in-all request (bookable/non-bookable content)
XML or JSON
REST
SOAP
PCI payment
Billpay installment payments
PayPal
Backoffice GET/Push (e.g. Bosys, Midoco, etc.)
Bookable content
holiday packages, 205 tour operator brands, service providers
hotels, tour operator rates
airlines, 160 flight, low cost and charter companies
live hotel request, e.g. Expedia
dynamically packaged X operator (real-time process with traffics TravelPack)
Thematic tours: cruises, circular tours, camping, bus trips, train journeys, holiday apartments
Non-bookable content
HeliView: 9,000 interactive beach flights and 360 degree hotel round flights
Hotel photos, texts and descriptions (GIATA)
HolidayCheck
TripAdvisor
Google Maps
Billpay
Innovations and product features
quick live inquiry & booking with direct access to bookable/non-bookable content
holiday packages, hotels, flights, rental cars, transfers, parking and many more
travel themes categorized according to e.g. circular tours, camping, bus & train trips
thematic search parameters, e.g. sport, diving, wellness holiday
bookable additional and inclusive services, e.g. ski, wellness package and much more
dynamic search filters and selections
400 queryable hotel facts, e.g. WLAN, access for disabled guests, etc.
hotel photos, texts, descriptions and videos
HeliView: interactive beach and 360 degree hotel round flights
georeferenced search and interactive maps with proximity search
search by hotel reviews: Holidaycheck, TripAdvisor or own
presentation of best prices per day in the calendar
filtering of holiday packages by direct flights & flight times
integrated price calendar and price/performance matrix
sorting by quality index, price, hotel name, location, etc.
free-text search input with auto-complete hotel name, location, surroundings
admin access with statistics, analysis and booking functions
 We can guarantee you that your customers have never seen anything like this before!
Offer your customers the possibility to interactively fly over 9,000 hotels, 16,000 km of coastlines, beaches and attractions. With HeliView, a multiple award-winning product, both your travel agency and your online travel portal will obtain an appropriate inspirational tool for your customers. Inspire your customers and increase the average travel price per booking. . Here you can learn everything about HeliView