Your path to the mobile future!
User-friendly IBE for holiday packages and hotels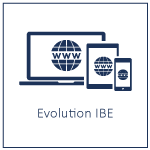 The user interface of the Evolution IBE is not only up-to-date, but also captivates through its simple operation and innovative search functions. Thus, the search for a suitable holiday offer is already an experience. Every journey begins with a dream – the Evolution IBE provides the right inspiration and precise selections thereto. New, now with theme-based search functions: e.g. cruises, circular tours, camping, bus & train trips.
Customer testimonials:
"The Evolution IBE is a very fast, clear and innovative booking engine. Our customers find their way around more quickly and the conversion has been increased by 30% as compared to the previously used engine. The flexible adjustments and a rather fast project work on several of our online portals have given us a lot of joy."
Alexander Konrad – H&H Touristik GmbH, Division Manager of Technology/Production Systems
Emotion meets technology
The holiday season is one of the most beautiful events of the year, and it already begins with the anticipation of the holiday. With Evolution IBE, you are gaining customers starting from their search for suitable offers. Traffics' Evolution IBE is impressive due to its colors, fine detail work in the layout, dynamic movements, large hotel images and the unique opportunity to interactively fly over destinations, costal areas, tourist attractions and hotels via HeliView.
Trip booking at all locations
Anyone who wants to keep up in these fast moving times, must always meet customer behavior and requirements and operate a multi-channel distribution. This also includes the compatibility with mobile devices such as smartphones and tablets. traffics Evolution IBE automatically detects iPhones, iPads and Android devices and adapts itself not only to the display, but it also transforms into a completely new search and booking experience as a standardized WebApp.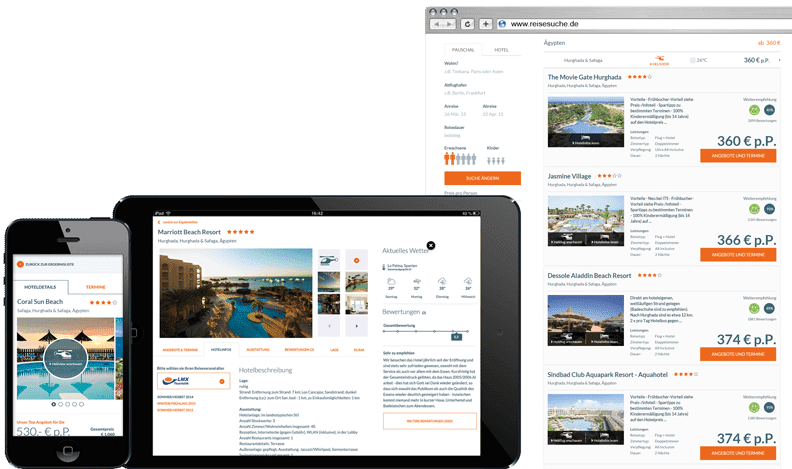 Through quality to success
A sophisticated and user-friendly technology with many innovations is an essential part of your success. We provide you with the best technology to increase the volume of your sales. 15 years of experience in the sector form the basis of our know-how in the production of travel databases, interfaces and content. High quality, as well as the continuous optimization of performance and conversion rates are a top priority for us – an ongoing process that we are taking for granted, because we want to support your growth and your success.
Presentation
optimal representation on all devices due to a responsive design
modern, user-friendly flat design
sorting of regions by customer popularity
memo with integrated map search and direct booking
display of flight times and stops for flight results
optional: HeliView module
Search
categories (cruises, train trips, golf trips, camping and many more)
airport and destination with airport code
direct flight expert
Booking
attachment of additional services, such as car renting, insurance, etc.
installment payment with Billpay
For more information about the Evolution IBE product, access the links below:
  We can guarantee you that your customers have never seen anything like this before!
Offer your customers the possibility to interactively fly over 9,000 hotels, 16,000 km of coastlines, beaches and attractions. With HeliView, a multiple award-winning product, both your travel agency and your online travel portal will obtain an appropriate inspirational tool for your customers. Inspire your customers and increase the average travel price per booking.  Here you can learn everything about HeliView