traffics to put hotels and destinations on the fast lane:
With Connected Destination the company created direct access between hotels, chains and private accommodations with sales channels in source markets +++ Final step of digitalization launched
Berlin (w&p) 5th of September 2017 – Hotel sales on the fast lane: After approximately 18 months of development, the Berlin-based travel tech company traffics has brought an innovation to the market which shall change the block chain within the industry massively. Background: the travel branch is more and more faced with global players which take over control over the market. With the tool Connection Destination, individual hotels, chains as well as even private accommodations will have the chance to deliver their fares without any detour to the sales channels and to adept digitalization.
By doing so, they can not only skip intermediate steps and optimize their margins, but they can also increase the quality of data massively, whereof sales partners can benefit equally as hoteliers and final consumers. The breakthrough: In terms of block chain traffics enables all parties along the process to negotiate with each other. The first successful realization of this disruptive innovation has already been implemented for Mallorca. There, not only accommodations benefit from this new kind of access, but also bed banks, DMC's as well as local service providers such as for bike and hiking tours, golf and sports activities
Germany's favourite island has already complete access:
Connected Destination targets individual hotels as well as large chain companies. As the first destination, Germany's number one destination has full access to the cloud-based tool: Mallorca. In collaboration with the tourist board of the government of the Balearic Islands, traffics has succeeded  to deliver a connection to not less than 80,000 beds in Mallorca. Hoteliers now already find the direct wire to the distribution channels of OTA's, tour operators and travel agencies. Piloting partners are among others: Viva Hotels, Marins Hotels as well as Protur Hotels.
Traditional sales channels will still be present:
The fact that hotels now have the chance to deliver their net fairs to sales partners in the source markets without any intermediate steps does not automatically mean they will have to neglect their classical partners. With the help of Connected Destination they will be able to continue to deliver to bed banks and can thus cover all sales segments by using a single tool and can – at the same time – optimize their processes.
"The dramatical change in our industry is by no means only a challenge, but also an enormous chance for the market participants", says traffics-CEO Salim Sahi. "Digitalization leads to one of the biggest reorders in history of the tourism branch. With Connected Destination, we give the industry the chance to participate and to even form it. Thus, they will not be driven, but will become an active part of the solution."
Alexa  – ask Mallorca for hotels in Cala Mesquida:
Besides the B2B sales traffics also announces another coup in terms of this completely new tool: In cooperation with Amazon, developers have created an interface with Alexa. Users who will ask her for examples about trips to Cala Mesquida, will receive individual travel suggestions. This will give hotels and even providers of private accommodations the unique chance to publicize their offers directly through Alexa.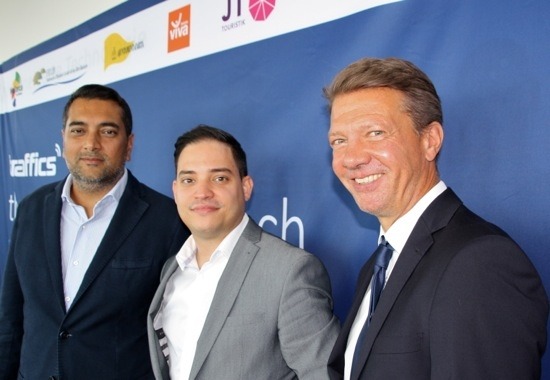 (Salim Sahi, CEO traffics, Omid Haghighat, Head of Product & IT JT Touristik, and Guido Bennecke, Head of Sales and Marketing traffics)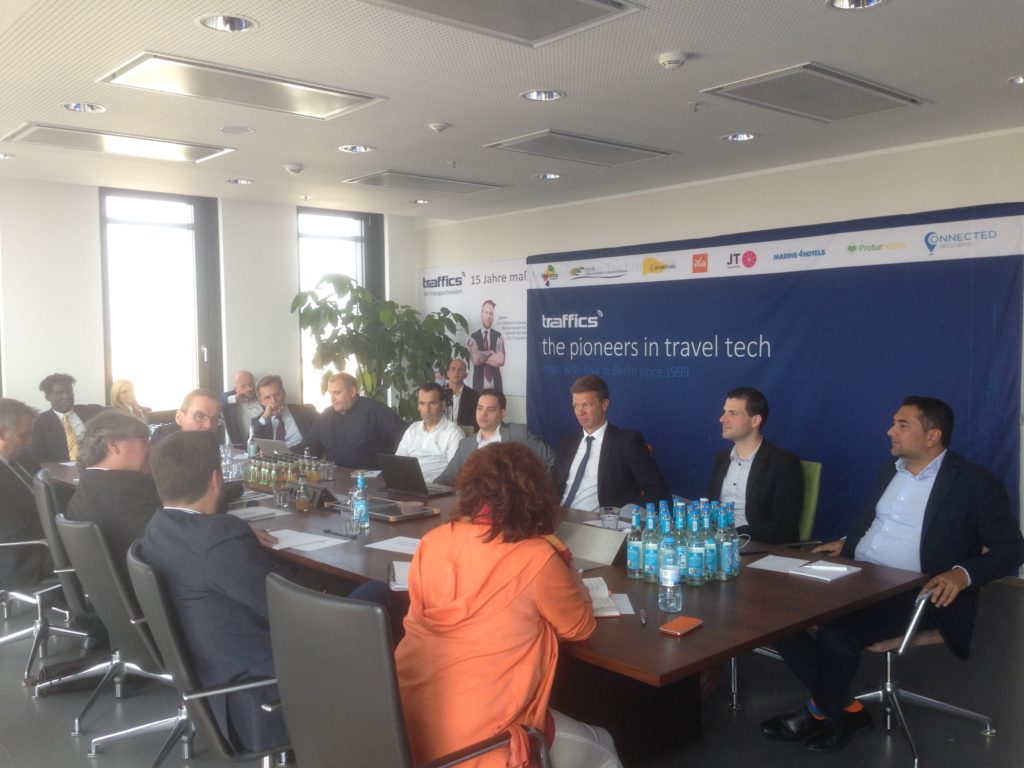 About traffics:
Since 1999, traffics is one of the leading companies for travel technology and is among the pioneers in the digital travel industry. traffics stands for innovative and customer-oriented development of consultation, search, and booking systems for travels. The users of the systems include more than 6,000 travel agencies as well as renowned travel portals, airlines, hotels, and other travel suppliers with more than 1.3 billion € in turnover per year. Through the continuous work on innovations and new developments, traffics was fortunate enough to win multiple awards and was able to set sustainable standards for the whole industry. traffics is co-founder and initiator of the industry collective for the Open Touristic Data Standard (OTDS) – besides that, the company is active in the boards of the Deutscher ReiseVerband (DRV, German Travel Union), the Travel Industry Club (TIC), the Verband internet Reisevertrieb e.V. (VIR, Association Internet Travel Distribution) as well as the Bundesverband Startups (Federation Startups).
PR contact traffics:
Roberto La Pietra / Marion Krimmer
Wilde & Partner Public Relations
Phone: +49 (0)89 17 91 90 – 0