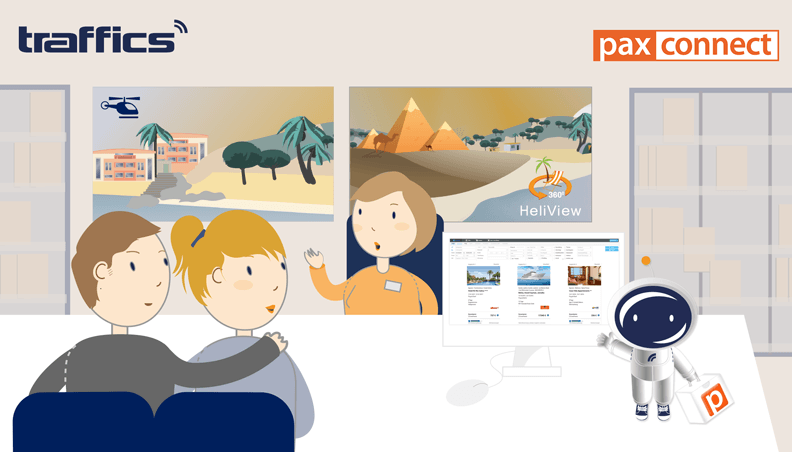 paxlounge goes CosmoNaut:
Counters benefit twofold from the cooperation between traffics and paxconnect
Berlin (w & p) July 29, 2016 – Bundled benefits: Both travel tech companies – traffics and paxconnect – have sealed a strategic cooperation to improve the consultation process in the over-the-counter sales. A significant step is the integration of the paxlounge live consultancy (developed by paxconnect) into the new traffics price comparison and booking system, CosmoNaut. This decision was based on the paxlounge being very well received at the counter, which is why traffics also wants to rely on it in the future for its offer management. All offers in CosmoNaut can be fully transmitted to the customers.
In addition to the functional integration, both companies offer the product bundle consisting of "CosmoNaut" and "paxlounge" at a conveniently combined price. Thus, the existing value of both products is further enhanced by the new condition model.
"In order to better support the consultation and booking process with our innovative price comparison and booking system, CosmoNaut, we have implemented another milestone with the integration of paxlounge", says traffics COO, Marc Herrgott.
Paxconnect is also pleased about the forged alliance: According to Joachim Monski, CEO of paxconnect, "the travel agent at the counter has significant benefits from this alliance in his/her consultancy activities".
You can find further information at www.paxconnect.de
About traffics:
traffics is one of the leading travel technology companies since 1999, and it stands for innovative and customer-oriented solutions in the travel industry. The product portfolio ranges from a touristic computerized booking system via Internet Booking Engines to exclusive touristic content. This makes the Berlin-based company a leading supplier of reservation, consultancy and booking systems for travel agencies, web, TV and mobile applications. Via HeliView, traffics provides a unique technology for interactive travel search, which has an integrated booking function from the helicopter perspective.  This system is used by more than 6,000 travel agencies, as well as by renowned travel portals, airlines, hotels and tour operators. Due to its continuous work on innovations, traffics has already been distinguished with several awards.
traffics Softwaresysteme für den Tourismus GmbH
Phone: +49 (0)30 – 59 00 282 -0
Wilde & Partner Public Relations
Roberto La Pietra / Birte Deppe
Phone: +49 (0)89 – 17 91 90 – 0