Reorganize your system now and save the monthly basic fee!
Manage your margins independently and as easily as never before with the margin tool! As a dynamic packager, you now have the possibility to set and adjust your margins for each flight provider in your online admin section.
Reorganize your system with the margin tool for a one-time set-up fee of € 800. The monthly usage will then be free of charge.
For the manual setup of the margin, as it is currently done, we will charge a monthly fee of € 80 as of 01.01.2016.
Product highlights at a glance:
determine amounts as a fixed sum and/or percentage-wise
your self-determined margin will be adopted directly with each new packaging
optimal overview of your preset margins via the search and filter functions
setting of margins for countries and regions, up to individual airports, so that every differing margin is valid
setting of actions for specific periods, e.g. Christmas, New Year's Eve or during the summer holidays
How do I set up the margin tool?
The margin tool will not be set up automatically. For the setup or further questions, please contact our sales team at sales@traffics.de or by calling the number 030 59 00 282 – 0.
We look forward to your request!
What our customers say…
"The new margin tool by traffics is an asset for every tour operator. It extends the existing control possibilities and reduces the work steps in the processing of changes. Keep it up!"
Grit Schumann, Flight Department Project Manager of Urlaubstours GmbH
"The margin tool by traffics is a very innovative idea, with which I am very satisfied. I can make many individual settings with the tool and I can enter different values for each airline or flight provider. The input and implementation are very well designed and can be performed in a few minutes. I hope that the tool will be continuously developed and that there will be even more "screws" to be turned."
Cahit Dogan, IT Department of BENTOUR REISEN
Are you already familiar with our Business Intelligence Analyze Tool?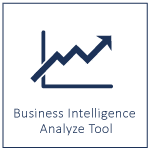 With the new Business Intelligence Analyze Tool, you can get an excellent reporting structure, plus you have the opportunity to gain insight into the data quality of your various tour operators.
Furthermore, you can simply create a benchmark for different evaluations in order to plan further measures for data production, sales and product control.
Learn more here.