Use HeliView in traffics CosmoNaut
You can now directly unlock the add-on module HeliView to be used within your traffics CosmoNaut reservation and advisory system. Simply register via the link below and HeliView will be automatically available for your next inquiry.
Together with your customers, in the traffics CosmoNaut reservation and advisory system you can view each hotel via a virtual 360 degree scenic flight or you can fly along the beach while looking at other hotels and their location. Thus, you can offer your customers greater transparency and confidence at the very first counseling.
Testimonials at the counter:
Ever since HeliView has been operational at the travel agency, we often hear about satisfied travel agents that manage to fascinate their customers on a daily basis, thus significantly increasing customer satisfaction. And who doesn't want something like this? "When the sightseeing flight begins, the enthusiasm of the customers can be truly felt. This allows, in particular, the visualization and marketing of high quality hotels." – Martina Umbreit, owner of the Sonnenklar Travel Agency
InEisenach. Michael Kühl, owner of two Sonnenklar agencies in Rostock, thinks that: "The module is an asset to Google Maps, as customers can be emotionally taken on the journey to the holiday destination. On the basis of aerial photographs, easy access to the beach or entertainment possibilities in the area are also identifiable."
HeliView and CosmoNaut, that's all you need!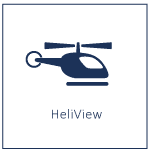 We can guarantee you that your customers have never seen anything like this before!
Offer your customers the possibility to interactively fly over 9,000 hotels, 16 km of coastlines, beaches and attractions. With HeliView, a multiple award-winning product, both your travel agency and your online travel portal will obtain an appropriate inspirational tool for your customers. Inspire your customers and increase the average travel price per booking. Here you can learn everything about HeliView