Take off with the traffics Flight Booking Engine
The fastest flight search in the world
Discover now traffics Evolution Air and convince yourself of its speed. With it you will obtain the requested results within a few milliseconds.
But speed is not the only reason why Evolution Air stands out from other IBEs on the market. It is the only IBE that has all flight fares (scheduled, low cost and charter flights, as well as packaged one-way combinations) on board.
With the price graph, you can see at a glance the price of your desired date of departure, as well as the best price and price development of the following days.
Do you like to be flexible? With just one click, you can search for airports in your area, as well as for your desired flight with flexible travel dates.
The direct route is the goal! With the direct flight search, Evolution Air will find your desired flights, without annoying transits. In the search screen you have the possibility to select a direct flight immediately.
Are you not flying directly? With the revolutionary flight representation in a map-based layout, you will be able to instantly view your transits, flight times and stopovers – both in the search and booking phase.
Use the flight IBE in your travel portal, in the Standard or Personal version.
Alternatively, you can use all flight data via the connector in your own IBE. Learn more about the traffics Universal Connector

Presentation
fastest flight search on the market
filtering by price and number of stops
display of flight times and stops
sorting by price and flight duration, including all flight connection information – all at a single click
sorting of regions by customer popularity
Search
direct flight & one-way
variable search +/- 3 days
search by name or 3-letter code
Booking
direct booking of charter flights
attachment of additional services, such as car renting, insurance, etc.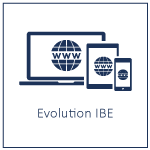 The user interface of the Evolution IBE is not only up-to-date, but also captivates through its simple operation and innovative search functions. Thus, the search for a suitable holiday offer is already an experience. Every journey begins with a dream – the Evolution IBE provides the right inspiration and precise selections thereto. New, now with theme-based search functions: e.g. cruises, circular tours, camping, bus & train trips. Learn more