The perfect overview
Monitor your KPIs and measure your performance!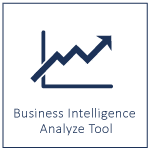 With the new Business Intelligence Analyze Tool, you can get an excellent reporting structure, plus you have the opportunity to gain insight into the data quality of your various tour operators.
Furthermore, you can simply create a benchmark for different evaluations in order to plan further measures for data production, sales and product control.
With the new analysis options, you can monitor in real time the placement of your offers on the market, you can actively engage with the product management tools and you can increase your booking options. Thus, you have the opportunity to respond to the needs of your customers and to organize them actively.
Now you can reduce the service requests and can discover errors in the supply and processing of the offer data in a timely manner. In particular, the matching of data for rooms, facilities, location and Giata IDs ensures a higher data quality within the system, thus leading to improved conversion rates.
Customer testimonials:
Michael Buller, the Chairman of VIR (Verband Internet Reisevertrieb) is also impressed by the new tool, since it indirectly improves the work of his association members: "Customers who search the internet for a trip want to buy what they see. Therefore, it is essential that tour operators minimize the rate of price deviations and errors. The Business Analyzer helps them significantly in this aspect – with the OTAs, our members and their customers also benefit from this."
Upgrade your travel offers to the dynamic package of travel services with the leading business solution, TravelPack X4. It combines for you, in real time, current airfares and hotel rates into a holiday package. Control your dynamic travel offers online, with various management and deployment tools, in order to select, for example, flight providers or to adjust – in real time – margins and calculations.